Views to the castle Petra Peloza and the villages Opatija, Zonti and Kastelani.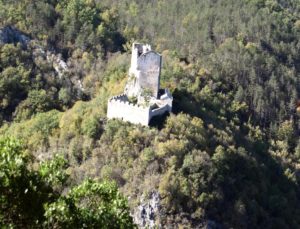 Name: Hiking trail from Mali Mlun to a small and big cave on the hill Zelena trava.
Place: Mali Mlun – (Buzet).
Coordinates: Start Mali Mlun 45.40112 N – 13.90691 E, mali cave 45.40493 N -13.90473 E, big cave 45.40419 N – 13.90436 E.