The old town of Vrsar is situated on a 54 meters high hilltop. At the entrance of the old town is situated the Church of St. Fosca from the 17th century, and the gate of St. fosca is from the 13th century, with a small coat of arms and a Lion of St. Mark.
On the hilltop the Bishops' Castle, that dates back in the 12th century and restructured in the 14th and 18th century. On a corner of the wall around the castle is a clock tower. The castle is used for centuries bij the Bishops from Poreč, that named themselves Counts of Vrsar. Later on Venetians and in the 19th century Counts de Vergottini bought it.
The Parish Church nearby  the castle is named St. Martin from 1935, and the bell tower is from the 20th century. The castle has two defence towers from the 13th century.
An other gate is the St. Anthony from the 12th/13th century. Nearby is the small Church of St Anthony from Padua from 1656 with a porch.
Near the Marina is the three-naved Church of St Mary of the Sea from the 8th century.
In the time of the Roman period Vrsar was named Ursaria.
After the fall of the Roman empire Vrsar was ruled by Goths, Byzantine Empire and Carolingian Kings. In 983 Ottone III donated Vrsar to Poreč's Bishops and remained their feud till 1778. In that year Bishop Negri died, and Venetian took over the administration of Vrsar.
During the Middle Ages was Vrsar a fortified settlement and the feudal seat of Poreč Bishops. In the 13th century was Vrsar a free Municipality with its own statute.
After the fall of Venice in 1797 was Vrsar part of te Austrian Empire.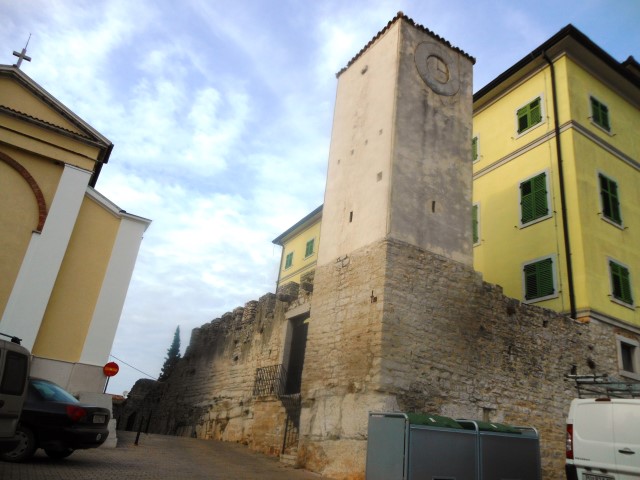 Date: 06-03-2012
Date: 21-05-2015
Name: Vrsar