Višnjan is located on a hilltop of 256 meters.
At the entrance of the old town is a small Church of St. Anthony the Abbot, that dates back into the 13th and 14th century. It has some some frescoes. Nearby were the big gates from the 15th and 16th century. The second small gates were located near the Venetian loggia. Višnjan was surrounded by medieval walls.
On the stone paved street towards the hilltop is the  Serenissima gate with the Lion of St. Mark and  an open book. The rebuilt gate dates back to the 17th or 18th century. The Lion is from 1517.
At the top is a main square with representative buildings. Left the palace of the family Sincic from the 17th – 18th century, a public well that dates back to 1842, a Venetian loggia from 1600, a 27 m high bell tower and the Church of St. Cyricus and Julitta from 1833.
Outside the old town in the centre of Višnjan is the Churh of St. Rock from 1923. In the area of Višnjan near Tićan is an plenatarium and the Church of ST. Pantaleon from the 16th / 17th century..
Visnjan was a prehistoric hillfort settlement and a Roman settlement. During the Roman and Byzantine period was Višnjan part of the dominion of Poreč.
In 1077 Poreč Bishops donated Višnjan to the Eppenstein family, and round 1200 it was ruled by Counts of Gorizia and Pazin. Višnjan became part of Venice Republic in 1374 until the fall of Venice in 1797.
During the centuries a lot of Slavs arrived in Istria when the Turks started to conquer the Balkan. The first time was in the 6th century. The Slavs were welcome to restore the countryside and towns' life. After periods of war and plague in Istrian towns and villages usually were reduced to half the population.
With the fall of Venice, Višnjan became part of the Austria empire.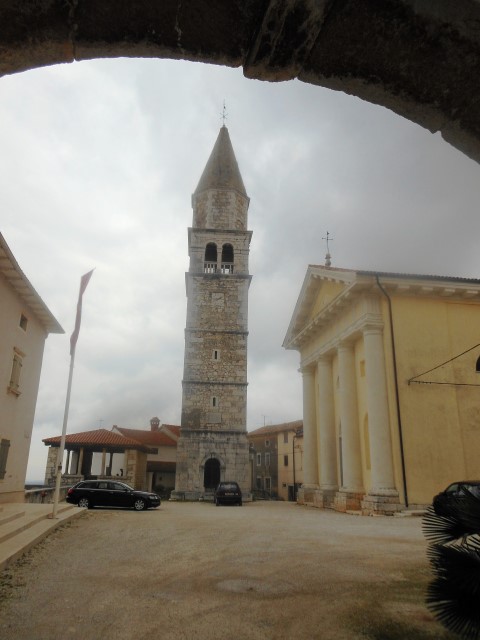 Date: 14-02-2015
Date:12-12-2014
Date: 22-12-2014 Place: Baredine
Place: Višnjan