St. Agnes, built in the 5th century on the place of a former mausoleum, and those of the monastery and basilica of St Andrew built in the 5th century, rebuilt in the 7th and 9th centuries and abandoned in the 13th century due to a plague epidemic.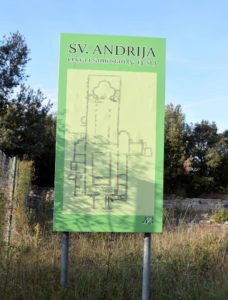 Name: Ruins St. Agnes and St. Andrew.
Place: Betiga – (Vodnjan).
Coordinates: 44.99478 N – 13.74971 E and 44.99766 N – 13.75273 E.