Reminder train accident near the village of Strana (Buzet).
This accident happened at the beginning of November 1975 after heavy rainfall, during which a large boulder and a lot of rubble from the cliff Raspadalice, part of the single track – had swept away at midnight at an altitude of 384 meters (km pole 36,7). A passenger train from Pula passing at the time – consisting of a locomotive, a mail freight car and three passenger cars – was unable to stop in time, after which the locomotive and a goods and mail car crashed into the abyss. The locomotive has been recovered. The post-goods wagon is still at a height of approximately 315 meters. Only the driver was killed in this accident. The 27 passengers in the three passenger cars escaped unhurt.
In the current situation, a trail of steel parts and debris can still be seen on the steep slope.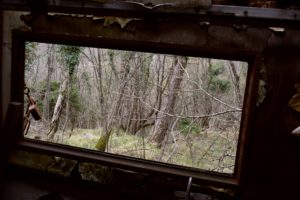 Name: Reminder train accident near the cliff Raspadalice.
Place: Strana – (Buzet)
Coordinates: Start Strana (Church "Majka Božja od zdravlja") 45.41803 N – 13.99486 E, train 45.4211 N -1399583 E. Track rails 45.42163 N – 13.99756 E.