Vižinada is located on the old Consular Roman road Via Flavia.
The first church on the right side is the  Church of St John the Baptist from 1579. Downside the hill in the centre of the old town is a public well from 1782.
The  building besides the well was  a granery storage house "fontico" with a stone column with an  inscribed price list from 1726. On the house is also a stone sculpture of the Lion of St. Mark with a closed book. Closed because Vižinada was the border of the Venetian dominions in Istria.
Opposite this house on the other site of the street was the palace of Grimani family and later on the Municipal palace.
Nearby the well on the main square is the Parish Church of St. Jeronim from 1837 on the place of an older church from 1530, and built by Gerolama Grimani. The facade is neoclassical. The bell tower dates back to the 17th century. On the square is also a Venetian loggia from the 17th century and an old school from 1736.
In the street down is a the Church of St. Barnabas that dates back to the 13th century. The church houses frescoes.
The cemetery that lies at Bozje Polje has the Church of St. Mary with frescoes of the 15th century. The church is older and mentioned in the 11th century.
As many villages Vižinada was also a prehistoric hillfort and a Roman settlement named Vicinales.
In 1177 was Vižinada part of the County of Pazin, ruled by Count Mainardo, who got it from Poreč's Bishops. As feud Vižinada was part of the territories owned bij the Lord of Zavrsje until 1523, when Vižinada passed to Venetians.
In 1374 went all the territories part of the Count of Pazin to the Austrian Hapsberg family.
In 1530 Girolama Grimani bought Vižinada and sold it to the Noble families Molin and Bragadin in the 19th century.
After the fall of the Venice Republic in 1797, Vižinada became part of the Austrian Empire.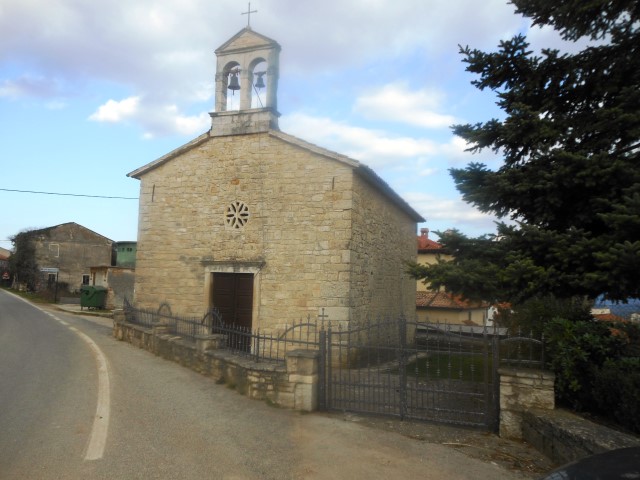 Date: 28-02-1015
Date: 18-09-2013
Date: 29-01-2016
Date: 16-04-2017
Place: Vižinada