Archaeological research has been carried out in the first quarter of 2023. on the square Marafor. This former Roman forum is located at the end of the main street Maximus Decumanus in the town of Parentium. Several temples were also located here.
After the removal of the current pavement, the former deeper paving of the forum was found with a prehistoric layer below with findings such as ceramics that indicate an age of 4000 years. In the center of the square is a large cistern, which was built here at the beginning of the 15th century. The male skeleton found during this research is believed to be from the Middle Ages, and was located near the site of an earlier church of St. George from the Middle Ages.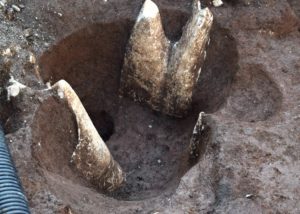 Name: Archaeological research Square Marafor in Poreč.
Place: Marafor – Poreč.
Coordinates: