Motovun is located on a 277 meters high hilltop and had a strategical important position because it controlled the merchant routs through the Mirna valley.
The cemetery church is the Church of St. Margareth from 1818.
On the top of the hill, surrounded bij wall's with square defence towers from the 13th and 14th century is the bell tower of the Church of the blessed Virgin Mary of Servants from 1585.The new gates tower dates back to the 11th century. In 1607 this gates were restructured. On the facade are coat of arms  and a Venetian Lion of St. Mark. Inside the town is the former Municipal palace or Podesta palace, built in 1256. and later restructured several times. Here are also the castle gates, and the municipal loggia from the 17th century. On the main street is the Church of St Ciprian from the 15th century, and the Rector's house from 1622 with coat of arms. Other houses here were from the family Donato, and the family Basilisco with a well from the 15th century. At the end of the street is the Blessed Virgin Mary gate. The name of this gate derive from the Church of  St. John the Baptist, or Virgin Mary of the Gates.
The Parish Church is dedicated to St.Stephan and built in 1614. The bell tower is from the 13th century.
After the Roman period Motovun was ruled by Goths, Byzantine Empire, Longobards, Carolingean kings. In 1929 Ugo of Provence, King of Italy gave same feudal rights over Motovun  to Bishops of Poreč. who sold the feudal rights. In 1208 was Motovun part of the Aquileia Patriarchs , but the feudal rights were belonging to the Bishops of Poreč.
In 1248 Motovun got a Municipal government  headed  by Podesta'.  Motovun became part of the Venetian Republic till 1797.
l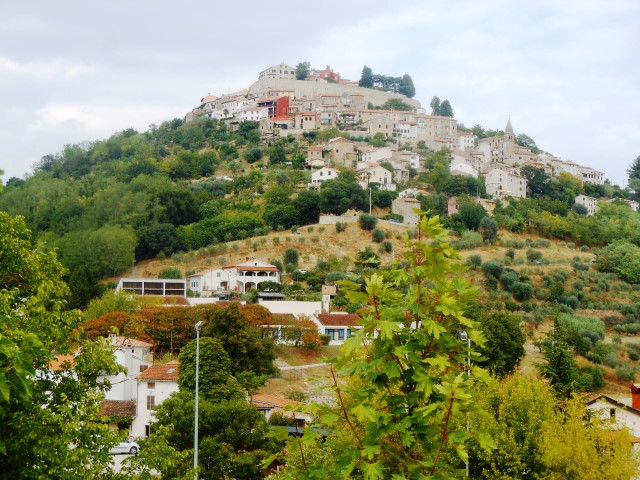 Date: 22-08-2013

Date: 30-07-2016
Place: Motovun