Vodnjan is situated about 135 meters above the sea level.
In the street Istarska Ulica  is the Chapel  of St. Sunday from the 19th century. Another church, just over the railroad, is the Church of our Lady "della Traverse" from the 13th century. Now this church is in use for the conservation and repair of relic and sacral art. In the same street is the Church of St. Cross from 1468.
The Trovacka street towards the centre  represents different architecture  during the centuries. In the beginning baroque and on the end more Gothic. In the middle of the street after passing a vault is the church of St. Martin from the 15th Century. In the neighbourhood the Church  of our Lady  with a Renaissance facade,  with in the middle a stone made eye (also named the rose) that allows the sun to enter the church. This church has too a bell tower and is built from 1630-1667.
Around the main square  was in the 13th century  a castle named Attinianum with three gates. This castle is demolished in 1808.One of the palaces is the Bradamante palace that also hosted a fontico and the public loggia and dates back in the 14th century,  and is restructured several times. The other building is the Municipal building with a Venetian balcony from 1910. North of the main square  is the old church of St. Jacob and the Holy Trinity from the 9th century. This building is important because in 1393 hosted the stipulation of the peace between Pula and Vodnjan, and in 1492 was here the statute of Vodnjan approved by all the heads of the families living in Vodnjan. Another building opposite to the former Public palace hosted the second  fontico (granery storage house).
West of the main square  is the Parish Church of St. Blaise with a 63 meters high bell tower. The church was built from 1761 till 1808, the bell tower in 1881. In the church is a collection of sacral art and mummified bodies of saints. The museum of Vodnjan and formerly the Betica palace dates back into 1300.
In the south direction of the Parish church is the Church of St. Rock from the 17th century.
Vodnjan was a Roman settlement named Attinianum. During the Roman period was the area mostly dedicated to the olive oil production. After a Byzantine period became Vodnjan part of the Charlemagne Kingdom.
In 1209 the Bishops of Pula donate Vodnjan to the the Aquileia Patriarchs and in the 13th century became Vodnjan a property of Castropola family from Pula.
After 1330 Vodnjan was an independent municipality and joined in 1331 Venice. In the 14th century  and in the beginning  of the 15th century Vodnjan was involved with different wars, and after 1411 the Municipality decided not to rebuilt the damaged defence walls.
During the 16th and 17th century Vodnjan was spared from plaque, and during this century many Slav immigrants escaped from the Turks  and came in Vodnjan.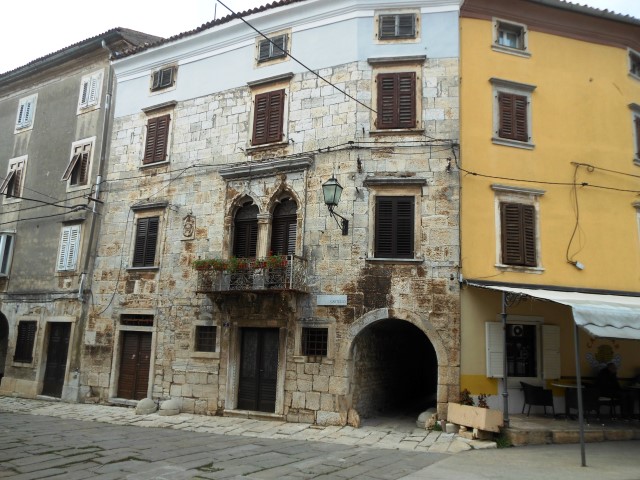 Date: 17-11-2012
Date: 05-12-2014
Place: Vodnjan